Corio Villa for sale
from w
We've walked or driven past this beautiful old house, like a Wedding Cake it is, down overlooking Eastern Beach, not far from where we used to live at Shenton. It's for sale and what a delight it is. One photo here is from a photographer who posts through Red Bubble, the others more ordinary. Notes here from the Red Bubble site. The villa is for sale by tender and there's no general open day for a sticky-beak but by appointment.
A single-storey prefabricated iron house designed by Bell & Miller, architects and engineers, manufactured in Edinburgh, Scotland by Charles D. Young & Co. and assembled in Australia by Alfred Douglass in 1856.
Soon after its production and shipping to Geelong the factory and all the moulds were destroyed by fire, thus ensuring 'Corio Villa's' uniqueness
in Australia.
The crates arrived at the Cunningham pier, Geelong in 1855 with apparently no indication of a name of the consignee. Later it was discovered that William Nairn Gray, Commissioner of Crown Lands, Portland district had originally ordered the house, but had died before the crates arrived unclaimed.
----------
from an article in a Geelong magazine:
Corio Villa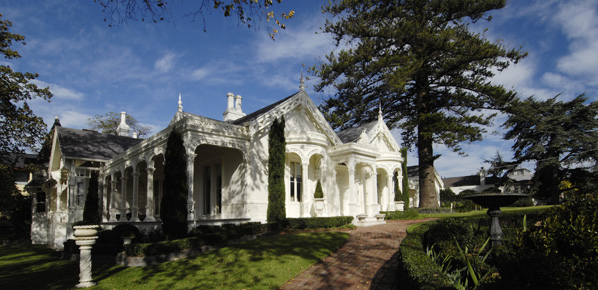 THERE HAVE been mixed fortunes for the few owners of this beautiful house, which is situated at
Eastern Beach
on
Geelong's waterfront
. The present owners, Glenn and Rosslyn McAllister, kindly related the history to me as we wandered around their stunning, pre-fabricated, cast iron home, which has been in their family since 1945.
WORDS: DALE WHITFORD
PHOTOS: TOMMY RITCHIE
Charles D. Young and Co. manufactured the home in Edinburgh, Scotland true to the design of Bell and Miller architects and engineers. After being shipped to Geelong in 1855, with no details of the recipient or sender, it lay on the dock in boxes for six months. More difficulties arose when the manufacturer's plant burnt down not long after shipping and all records and casts were lost. This fact ensured Corio Villa's future as the most historically fascinating cast iron dwelling in Australia.
It was later learned that the name of the consignee was William Nairn Gray, Commissioner of Crown Lands, but he had died before the crates arrived.
It was sold to Mr Alfred Douglas for a small sum as it was cluttering the wharf. He went on to have the house constructed despite the absence of plans and directions. It was dragged up the hill to its present location where it presides over the now thriving waterfront precinct, which has changed a lot since those days. Douglas was a successful
businessman, owning a wool washing business and went on to own the Geelong Advertiser amongst other things.
In the mid 1800's Geelong was a flourishing township rivalling Melbourne for the mantel of the colony's major town. As well as a good rail system, which handled the wheat and pastoral industries of the Western District, it was also on a major route to the Victorian goldfields.
In the mid 1800's Geelong was a flourishing township rivalling Melbourne for the mantel of the colony's major town. As well as having a good rail system, which handled the wheat and pastoral industries of the Western District, it was also on a major route to the Victorian goldfields. The Eastern Beach area was a popular watering hole where
people came for bathing and other recreational pursuits. Many were drawn to the unspoilt beauty of Corio Bay and later visitors could enjoy mineral springs and the nearby Botanic Gardens, which are still there.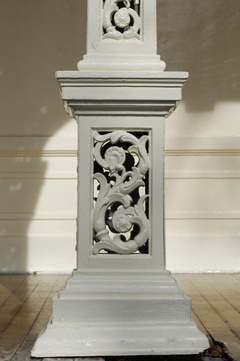 There was a shortage of building materials in the colonies and labour costs were inflated because of the gold rush whilst in Scotland, the prevailing conditions favoured heavy engineering that could produce this type of pre fab home. The walls are made of half-inch boilerplate in sheets three-by-three feet sheets, which were bolted together to form walls. The veranda posts and porch supports
were cast in ornate and delicate filigree patterns, and the internal lining is mainly lathe and plaster with some pressed metal and papier-mâché features thrown in for good measure.
Internally it is what you would expect. Beautiful period features abound, and the room sizes are generous. The décor is true to the period and sympathetically modern where appropriate. It is elegant inside and out.
There are a number of cast iron, prefabricated buildings about from this period however most are utilitarian structures such as warehouses or shops. The only other ornate cast iron home in existence is Tintern located in Toorak.
After Alfred and Elizabeth Douglas lost a number of children in infancy, Henry was born and took ownership of Corio Villa on his father's death in 1885. He became a lawyer after being educated at Geelong Grammar and upon his death in 1927, his son, George took guardianship of the Villa. He died as a result of wounds incurred in World War I which saw one of his sister's live at Corio Villa until 1938 when it sold to Doctor and Mrs Ross, hailing from Ballarat.
Meanwhile, Mr and Mrs McAllister migrated and settled in Geelong in the early 1900's. After running a general store Mrs McAllister went on to operate the
Eastern Beach Kiosk
, which is still operating today. When Corio Villa became available in 1945 they purchased
it and perhaps unknowingly, set up another family dynasty. In 1962 Murray McAllister, Glenn's father, purchased the villa from his mother's estate and set about making the restoration of Corio Villa his life's work whilst also being a successful business owner.
Glenn and Rosslyn remember Murray's dedication and his perfectionist attitude to the restoration, which has surely rubbed off on them. When the conservatory floor was subsiding and the tessellated tile floor needed work, Murray removed each tile individually then re-laid it in its original position after the floor had been repaired.
He passed away before seeing the total restoration despite over 40 years of passionate work. Under Glenn and Rosslyn's ownership the legacy continues through the vision they continue to pursue.
They have just completed repainting the outside of the Villa, which was no small task. The entire building had to undergo abrasive blasting before being painted, similar to the process of painting a ship. It is nearly complete, "about 98%" Glenn and Rosslyn said and it looks stunning. They say they have loved the journey.
The house was extended in the late 1800's and the timber structure seems to seamlessly blend into the original iron cottage style described in historical notes as an Italian Villa. Walking around the lovely acre of gardens one experiences beautiful examples of oak, elm, jacaranda and walnut trees sitting amongst evergreen hedges and mass plantings of hellebores, catnip and rosemary. In spring and summer the added sights and smells of lavender, iris, roses and hydrangeas make for a heady mix.
The history of the place is alive. The Douglas family crest is in place just as it was when it was built, complete with the motto "Do or Die" and so are the lion head keystones that adorn the verandas securing the intricate fretwork together. The ornate urns are still in place and thankfully have avoided the ravages of time or human. As an expert wrote; "Nothing can exceed the beauty of the examples; they are quite equal to the great originals, in proportion, execution, sharpness and beauty of outline. The figures
stand in bold relief, and as specimens of iron casting they are unequalled in the world."
It is no surprise that
Corio Villa
is listed on the
Victorian Heritage Register
. Dr Robertson, in the National Trust publication Historic Houses of Australia wrote "It is generally agreed that this building falls into the first category of important buildings in this state and has been indicated by many people to be of world importance."
We should be grateful that three families over the past 167 years have had the vision to build it, retain it and restore it. Such a special building could easily have gone missing over time as values change and fashions come and go.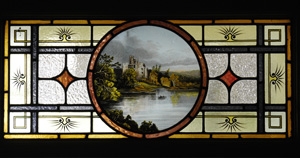 The McAllisters have occasionally allowed wedding services to be held there during spring and summer months using the glorious gardens and the exterior of the home as a backdrop for those all-important wedding snaps.
Despite its grandeur it is Glenn and Rosslyn's home first and foremost. They are very private people who enjoy their good fortune in coming to live in this lovely setting and they are to be congratulated for completing Murray's dream of restoration. Their legacy to the community will go on to be cherished for many years to come.